Valparaiso Heating Maintenance
Did you know that performing regular maintenance on your furnace can make it last a lot longer than it otherwise would? All it needs is regular testing, cleaning out the places where dust and debris can gather, and filter replacement. The expert heating service technicians at Total Comfort can do all of this and more.
The Comfort 24/7 Program
When we say "Total Comfort", we mean total comfort. That's why we came up with the Comfort 24/7 Program. Enrollment in this program means that we will do all of the upkeep necessary on your heater and air conditioner so you don't even have to think about it. When it's time for maintenance, we'll make an appointment, arrive on time, get the work done without disturbing you, and let you know if we find anything that's not working up to spec.
This can save you money. First of all, it saves on wear and tear for your heater, so it should last longer. Furnaces and heat pumps can be expensive to repair or replace, so regular maintenance often means that you put off this big expenditure. It also saves you money because your heater will run more efficiently when it is clean and has a clean filter. You won't use as much energy, so your bills won't be as high.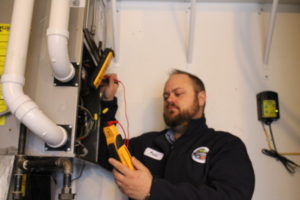 Other benefits of this program include:
Safety checks
Minimized sound levels
Healthier air quality
Enhanced heating capacity
Fulfill manufacturer's warranty requirements
15% off repairs or system upgrades
Priority scheduling for one full year
For every consecutive year of system maintenance (up to 10 years) receive $50 off the cost of replacement
24/7 Emergency Repair Service
100% Satisfaction Guaranteed
Enrollment is easy and affordable. If you would like to join the Comfort 24/7 Program or just schedule a single heater maintenance appointment, call us today. We'll get to you soon and help you keep your heater running well, all winter long.
Click here to contact Total Comfort NWI for heater maintenance in Valparaiso!