Valparaiso Heating Installations
When it's time for a new furnace or heat pump, call us at Total Comfort. Our heating service technicians do whatever we have to do to keep you comfortable and get you the perfect new heater for your home. We know that you don't have time to wait around for your HVAC tech to get there, so we promise to be on time, to work efficiently, and to always value the quality of our work more than anything else.
Is it Time For a New Heater?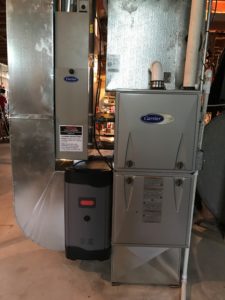 It can be hard to know when it's time to get a new heater. Unless yours has died entirely and it can't be fixed, it's usually a question of replacing your heater strategically. Here are some signs that it might be in your best interests to do a heating installation with Total Comfort.
You've had a lot of repairs done. Even if they weren't expensive, multiple repairs can indicate that your heater is coming close to the end of its lifespan. It may be better to replace it instead of continuing to repair it until it cannot be repaired anymore.
You are facing an expensive repair. Even if you can do the repair for less than the cost of a new heater, remember that a new heater will likely save you money in energy costs and won't require much in the way of repair for a while. If the costs are close and the repair won't bring your old heater up to the level of functionality that a new one would offer you, it may be time to replace your heater.
You need a different heater. If your current heater is too small or too large for your home, you may want to get a new heater that is just the right size. This will help even out the temperatures around your house and won't use too much energy or burn out too fast.
Your heater is getting older. Depending on the type of heater you have and its manufacturer, it's probably designed to last from 10 to 20 years, even with regular maintenance. If you are hitting the top part of your heater's lifespan, you may want to replace it before you have to deal with it dying entirely. This is up to your preference but is definitely something to think about.
We want to keep you and your family in Total Comfort! Call us today and we'll help you find a new heater that:
Is the right size for your home
Will save you money on energy costs
Comes from a manufacturer we trust
We'll help you get it ordered and installed, too, so you can be sure it will last for a long, long time. Call us or make an appointment for heating installations in Valparaiso today!