If you suspect that you need furnace repair in Valparaiso, IN or the surrounding areas, call us at Total Comfort right away. We are your heating repair specialists in the area and we would love to help you get the heat you need at home again.
We promise the following things every time you all us:
We'll have someone at your door fast, at a time that works for you.
Your technician will arrive on time.
Your technician will treat your home respectfully, as if it was their own.
We'll accurately assess your furnace issues and get the right repair in place fast.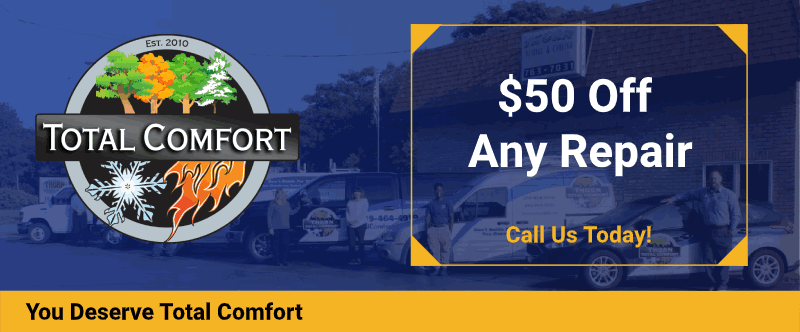 When to Call for Furnace Repair
When your heat is still running, it can be hard to justify the cost of calling for heating service. However, if you notice the following problems, you need furnace repair ASAP. Sometimes, we can even fix the unit before your heat disappears completely.
Call us when:
Your furnace makes unusual noises.
Your furnace is blowing cold or lukewarm air.
Your furnace doesn't seem to be responding to your thermostat anymore.
Your furnace won't turn off or it turns off and on so quickly that it cannot heat your home.
Your energy bills are going up and you don't know why.
You are cold at home even though your furnace seems to be working normally.
Get Your Furnace Repaired Soon!
Take the first step toward total furnace repair by calling us today! We'll get you an appointment with a furnace repair expert who will be at your door ASAP. Your technician will talk to you to understand your heating problems, then get to work on the furnace.
We'll inspect each part of your furnace, testing as we go, until we find out what is causing your furnace problems. Once we know that, we'll know how to fix the issue. We'll let you know what we found and what is involved in the repair.
If you agree to the repair, we'll start work as soon as possible. If we have to order parts, we'll let you know when they'll be in and when we'll be back. Once we have everything we need, we'll work hard until your furnace is back online. We test each repair that we do and we want you to test it, too, just to make sure everything is working the way you expect it to.
Call today to start your furnace repair soon!