Are you looking for someone to repair your boiler? Do you need your heating fixed but you're not sure how to repair a boiler?
Then you've come to the right place. At Total Comfort, we are your experts in boiler repair in Valparaiso, IN. We promise that we will:
Get to you quickly, at a time that is convenient for you.
Arrive on time, every time.
Always send a boiler expert to perform your boiler repair.
Work hard until your boiler is back online.
Stay until you are completely satisfied with the way your heat is working.
Stop worrying about your boiler and get back to Total Comfort fast!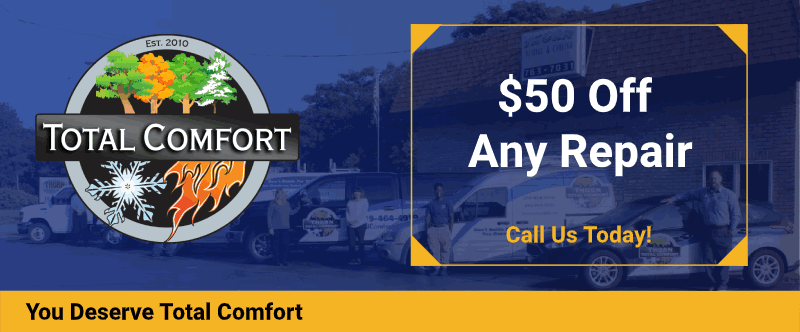 Do I Need Boiler Repair?
Not sure if you need our heating services for a boiler repair right now? We don't blame you! When your heat is still on, it can be hard to know if the problems you're noticing justify calling for boiler repair. Here are some signs that you do need to call us, and fast!
Your boiler is leaking. NEVER let this go as boilers can cause major water damage.
Your boiler makes unusual sounds. Listen especially for whistling or banging.
Your boiler seems to be working well but isn't producing very much heat.
Your boiler isn't responding well to your thermostat.
You're having hot water issues (since most people use the same boiler for heat and hot water). These may show up before any heating issues appear.
We promise that we'll fix your boiler. If it's not working again, we aren't finished yet!
Get Heating Services Fast!
Start your boiler repair by calling our heating services department now. We'll connect you with someone who not only knows how to repair a boiler, but who is an expert in doing so. You'll get an appointment that works with your schedule and your technician will arrive on time.
Once there, your tech will talk to you about what you've been experiencing with your boiler, then take a look at that unit. As soon as we know what boiler repair you need, we'll let you know and get to work. Our goal is always to get your boiler running again that same day, though we may need to order parts and come back.
We'll test our work before we leave and we want you to test it, too. Once you're satisfied with how your heat is working, we'll get out of your way.
Call to schedule your boiler repair today!