Valparaiso Thermostat Services
Cor Home Automation
A simple, affordable, and effective means of trimming monthly costs, simplifying your life, and enhancing year-round comfort is with the installation of a smart thermostat. With savings of nearly $200 a year, these innovative controls pay for themselves. Offering a wide range of sophisticated options, the specialists from Total Comfort make sure you take advantage of maximum rewards. Our factory trained and certified specialists customize our recommendations to your specific household, lifestyle, and expectations. Contact us for a free consultation and the right upgrade for your home anywhere across Northwest Indiana
Enjoy ultimate convenience with a thermostat installation from Total Comfort!
We put you in control of all aspects of your indoor climate. A WiFi (wireless) thermostat allows you to customize heating, cooling, and air quality with a handy remote from any room in the house. Or from anywhere. Whether you're at home, in the car, at the office, or off on vacation, you can keep track of and make adjustments to your HVAC system. The benefits of this advanced technology add up in cost savings, time savings, superior comfort, and more effective management of HVAC equipment.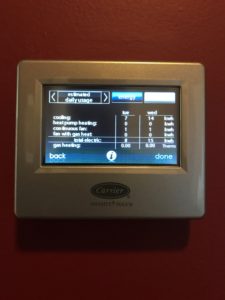 Some of the many benefits of installation of a WiFi thermostat include:
Access HVAC equipment and air quality accessories from anywhere you happen to be
Raise or lower temperature at a moment's notice
Allows all components of HVAC system to properly communicate
Helpful display of outdoor weather conditions, including temperature and humidity
Remain informed of the status of your HVAC system, including maintenance alerts and filter change reminders
Manage independent temperature, humidity, ventilation, airflow, and indoor air quality in multiple zones
Orchestrate a dual fuel system
Touchscreen display
User-friendly setup and programming
Energy tracking facilitates energy and cost savings
Tailor indoor climate to your busy lifestyle
As a Carrier Factory Authorized Dealer, Total Comfort is qualified to recommend and install a rewarding selection of award-winning products that simplify the effective and efficient management of your home. Our licensed technicians are exceptionally trained and constantly updated, ensuring that your expectations and demands are matched to the ideal solution. We are your home comfort providers in Valparaiso, IN!
When it comes to your Indoor Air Quality, we want you to have the very best. That's why we provide a full range of air quality services in Valparaiso & the surrounding areas, to ensure you stay comfortable & breathe easy in your home! Click here to contact us online, or call us to learn more!