Heating Repair in Valparaiso, IN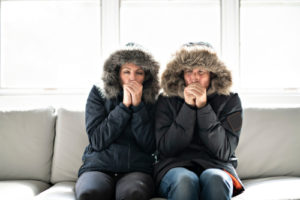 When you're in need of heating repair in Valparaiso, IN, call us at Total Comfort. We'll send out an HVAC technician who is highly trained and skilled, so you can get your heat back as soon as possible. We know that it gets quite cold in Valparaiso, so we attempt same-day heater repair service whenever possible. If we have to order parts or wait for something to come in, we'll make sure you know exactly when you can plan to hear from us again.
We promise that we will always send you an expert. Whenever you call us, you'll get one of the very best heating and cooling technicians in the field. We make sure that our techs not only know their stuff when we hire them but that they are committed to keeping their skills fresh. We invest in them every year, training them on the latest technology and updating their knowledge so they can give you the very best when it comes to furnace & other heating repairs in Valparaiso, IN.
Did you know that you don't have to wait for your heater to die completely before you call us to get it repaired? Many times, we can fix a heater before it stops heating so that you never have to get too cold at home. If you notice any of the following things with your heater, call us today so we can keep you warm.
Your heater turns off an on rapidly. It should warm your home, then turn off until the house cools again.
Your heater runs and runs without ever turning off.
Your heater produces lukewarm air. This won't effectively warm your home, so your heater will have to work extra hard.
You have to keep changing your thermostat to stay warm.
Your heater makes unusual noises. This can indicate that something is broken inside of it.
Your heater doesn't turn on consistently when it should.
You are cold at home even though you can't identify a problem with your heater. This isn't acceptable. You should be able to be comfortable at home!
Call us today for your heating repair in Valparaiso, IN. We'll get to you fast, greet you politely, then assess the issue. Once we have a plan in place to complete your furnace repair, we'll answer any of your questions, then get to work. We'll make every effort to get your repair done that day, so you don't have to freeze at home anymore.