Ductless HVAC & Mini Split Repair in Valparaiso, IN
Do you have ductless HVAC in Valparaiso, IN or are you considering it? At Total Comfort, all of our technicians are skilled in making your ductless HVAC system the best that it can be. Call us when something isn't working well, when you need maintenance performed on your system, or when you're replacing or installing a mini split or ductless HVAC system. We'll make sure the work gets done right the first time, so you can stay comfortable at home in Valparaiso.
Ductless HVAC Repairs
When your ductless HVAC system isn't working, you can get uncomfortable at home fast. Call Total Comfort for all of your needs surrounding ductless HVAC in Valparaiso, IN. We'll get there fast, then talk to you about the problems you're having with your system. This helps us get valuable information about what is going wrong. Then, we'll examine the system itself, determine the cause of your problems, and get a plan in place to get things working again fast. Pretty soon, you'll be comfortable at home again.
Ductless HVAC Maintenance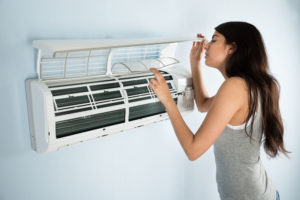 Maintaining your ductless HVAC system can mean the difference between replacing it every few years and having it continue to work for many years to come. We will visually inspect the system, clean it out, and test each part to ensure it's working the way the manufacturer designed it to. If we find any problems, we'll notify you and, if you desire, help you get them fixed so you can continue using your system to its utmost capacity.
Ductless HVAC Replacement and Installation
When it's time for new ductless HVAC or mini split repair in Valparaiso, IN, call us. Whether you've had a system before and you need a new one or you're installing one for the first time, we'll help you find the perfect system for your home. We only recommend system from brands that we have come to trust, so you can be sure you're getting a system that will last for a long time. Once you've chosen your system, we'll help you get it installed fast so you can get your home to a comfortable temperature soon.
Call Total Comfort whenever you have a ductless HVAC system in need of some help in Valparaiso, IN. We'll send out an expert who will get things working to your satisfaction as efficiently as possible, while never sacrificing the quality of our work. Make your appointment today!