Air Conditioning Repair in Valparaiso, IN
When you need air conditioning repair in Valparaiso, IN, call Total Comfort. We hire the best HVAC technicians around, then we give them more training to make sure they know everything there is to know about the latest technology. We keep their training updated, too, so you can always be sure that you're getting the best fix for your air conditioning problem.
Did you know that you don't have to wait until your air conditioner dies to call us for help? Many homeowners wait until the cold air is completely gone before they call, but often we can solve a problem before it gets that far. If you notice any of the issues listed below, call Total Comfort today. We'll get to you fast and try to get your problem solved before you get any more uncomfortable at home.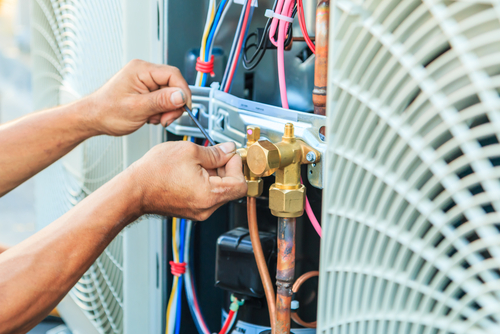 Your air conditioner blows lukewarm air. The air coming from your vents should be cold, no matter how often or how long your A/C has to run. If it gets lukewarm over time or when it's really hot outside, call us for a repair today.
Your air conditioner makes unusual sounds. Normal motor and blowing noises are to be expected but banging and clanging are not. This can indicate that something has come loose or is broken in your A/C and you should fix it soon for optimal functioning.
You have to keep cranking down your thermostat. Most thermostats are "set it and forget it" kinds of things. If you have to keep lowering the temperature on yours just to stay comfortable, it's time to call in a professional to look at why your air conditioner can't keep you cool.
You're too hot at home. Even if your A/C seems to be running normally, you should call us if you are too hot at home. We will come to figure out why your air conditioner can't keep you cool and help you come up with a solution so you don't have to roast.
Make your appointment with an air conditioner technician from Total Comfort today. We'll get your A/C repair in Valparaiso, IN completed as soon as we can so you can stay cool in your home all summer long. No matter what type of a/c repair you need, we'll fix it fast and get out of your house so you can get back to your normal, daily routine.