If you are looking for a professional to assist with some issues or concerns you have about the HVAC system at your place in Porter or the air quality there, reach out to Total Comfort NWI. We have over 10 years of experience providing expert help to property owners in the area whenever they need something done involving their air conditioning unit or heater. We have a staff of specialists who are available 24/7 to come out to your property and render aid, so call us whenever you need us!
Porter's Air Conditioning Repair Experts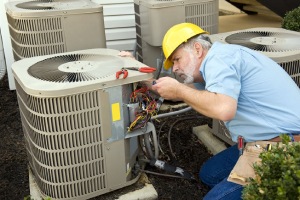 Turn to Total Comfort NWI's staff for a solution to any issues with your air conditioning system. We will check out the unit to see why it is malfunctioning and then get to fixing whatever it is. Soon your AC will be blasting again and you will be cooled down in no time.
In some cases, AC units are beyond the point of salvaging. At properties in Porter where this is the case, we will discuss your options with you regarding replacement systems. After you decide on a new appliance, we will get it set up and connected so that it is ready to work when you want to cool your place down.
It is important to make sure that maintenance efforts for your air conditioning system are completed on a regular basis. Do not put off having the appliance serviced because if you wait too long, any unresolved issues may be past the point of repair by then. We can tune-up your AC to make sure it stays in good shape.
Heating Services Offered in Porter
Home and business owners don't need to panic when the heat goes out at their property; they can just Total Comfort. When we are on the job, you can have total confidence that everything will be solved soon. It could be that your system is making weird noises, not turning on, blowing cold air, or whatever else – we are sure to be able to repair it.
If your heater can't be fixed, we will quickly get it replaced for you so you are not inconvenienced for long. Our staff in Porter can take out the old unit and get the new appliance installed all in a quick and efficient manner.
Stay up-to-date with all the necessary upkeep for your heating system by joining our maintenance program. When you sign up, we come out for regular appointments to examine and tune up the appliance and make sure it is in good shape to work well and warm your place in Porter.
Air Quality & Control Staff
Anyone in the Porter area that is interested in having more authority over temperatures and air quality inside their building can call us. Our staff offers expert air quality services, including installations of things like programmable thermostats or ductless split systems, to bring better air to our customers' buildings.
Porter's Top HVAC Company
When you realize you need assistance with the heating and cooling system at your place in Porter, turn to our staff. We work 24/7, coming to the aid of those in the community who need help with repairs, maintenance, installation, or anything else!. Contact the HVAC team at Total Comfort today!