Thermostat Services in Portage, IN
Are you sick and tired of fiddling with your thermostat all the time? Do you feel like your thermostat doesn't even communicate with your heating or cooling systems anymore? If this is you, stop worrying and feeling frustrated and call us at Total Comfort Right away. We'll get an expert to your house fast to take care of your thermostat installation in Portage. If it's time for a new one, we'll take care of your thermostat installation in Portage, too!
Thermostat Installation
Whether your old thermostat isn't working or you want a new, programmable or smart thermostat, we have you covered. We'll work with you to find out what you're looking for, then we'll take a look at your home to find out what is compatible. Once we know both of these things, we'll get to work getting you the new thermostat that you need.
Most thermostats are relatively straightforward to install, but we always test our work when we're done. We invite you to test it and take a few days to make sure it's working just the way you need it to. If you aren't happy with your thermostat installation in Portage, we'll come back and work on it until we get it right.
Thermostat Repair
When you need thermostat repair in Portage, chances are good that you need to get it done ASAP. We will work with you to make sure you have access to both your furnace and air conditioner all the time, no matter what it takes from us. We'll test your thermostat fast, then work on it until it is effectively controlling your heater and A/C once again. Your technician from Total Comfort won't leave until your home is at the right temp again.
Smart Thermostats and You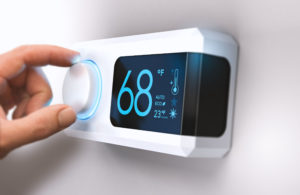 If you've heard of smart thermostats and you're interested in knowing whether one might be right for you, then you've come to the right place. We'll work with you to make sure you get a thermostat that makes sense for you and that will work well with your system. Then we'll install it and test and before we teach you how to use it so you can get the most out of it every day.
Whether you need thermostat repair, thermostat installation or other air quality services in Portage, rely on our expertise at Total Comfort to get you what you need. Call today to make an appointment with one of our thermostat experts!
Click HERE to make an appointment online with Total Comfort for thermostat services in Portage, IN!