Indoor Air Quality in Portage, IN
Do you need help with your indoor air quality in Portage? Do you or someone you love struggle with allergies, asthma, or other breathing difficulties? Cleaning up the air quality inside your home can do a lot towards helping everyone breathe better at home. When you're breathing well, you'll be able to focus on the other things that matter so much to you.
At Total Comfort, we want you to be completely comfortable in your home. We'll work hard to help you keep your indoor air quality high so you don't experience illness or other struggles there. If you have questions about the air you're breathing at home every day, don't hesitate to call in our experts to get things taken care of fast.
Indoor Air Quality Testing
We'll start with indoor air quality testing in Portage. This lets you know exactly what might be in your air that could cause problems. We test for: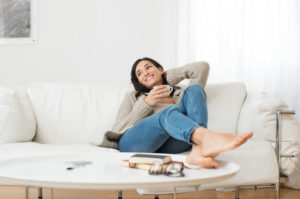 Common allergens
Pollen
Animal dander
Dust
Bacteria
Viruses
Mold
Mildew
And more!
Once we know what is in your air, we can help you design the best solution to get rid of it. There are many options when it comes to treating your air and indoor air quality testing in Portage is the first step toward finding which of these will work best for you.
Indoor Air Quality Solutions
After you get the results of your indoor air quality testing, it's time to design a plan to get rid of any air pollutants we found. Solutions can include:
Installing a whole-home air purifier
Installing air purifiers in individual rooms or spaces in your home
Installing different filters on your furnace to help eliminate pollutants
Installing UV lights in your ducts to kill bacteria, viruses, mold, mildew, and more
Changing your HVAC syste to a ductless model
Air duct cleaning
And more!
Never fear! We have the methods you need to improve your indoor air quality in Portage. Before long, you'll be breathing well again and you won't have to worry about your air anymore because you'll know that you have done what it takes to rid yourself of any problems.
Call Total Comfort today to start the process of improving your indoor air quality. We'll send out an expert soon to test your air, then help you eliminate the pollutants we find. Before long, you'll be breathing clean air again! And if you need any other heating & cooling services for your home, you can stick with the pros here at Total Comfort! You can expect the same great service for all your household HVAC needs!
Click here to contact Total Comfort online for Indoor Air Quality Services in Portage, IN today!