Air Conditioning Services in Portage, IN
If you're struggling with your air conditioner or you'd like to get a new one, contact us at Total Comfort today. No matter what you need when it comes to air conditioning service in Portage, we'll get you cool at home fast. Our experienced HVAC technicians will work hard for you, and they'll keep working until you are comfortable in your house once again.
Air Conditioning Repair
We'll get your air conditioning repair in Portage completed as soon as possible, no matter what it takes. We start by getting to you fast because we know how easy it is to get too hot at home. Once there, we'll discuss the issue with you so we have a complete understanding of the problem. Then we'll take a look at your A/C and test it until we know what went wrong.
After we know what is broken, we'll know how to proceed with your air conditioning repair in Portage. We'll get the job completed quickly so you can stop worrying, get cool, and get back to your regular schedule again.
Air Conditioning Replacement
Sometimes, it's a better idea to replace your air conditioner, rather than to repair it. This can happen when your repair is so expensive that replacement is cheaper, when your A/C is old, or when you aren't satisfied with how your air conditioner is cooling even when it's working well.
Our technicians are always happy to help you decide if air conditioning replacement is right for you. We'll work with you to make sure you get the solution that is perfect for your home and that will keep you cool, both now and through the hot spells to come.
Air Conditioning Installation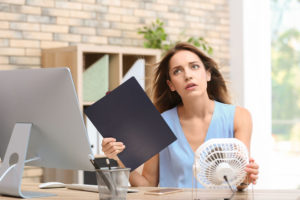 Whether you choose to buy a new air conditioner through us or you already have one, we'll do your air conditioning installation in Portage quickly and efficiently. We'll work hard to make sure each part of your new A/C gets installed correctly so you can feel confident that it will work well for you.
We do every air conditioning installation in Portage according to the manufacturer's specifications and instructions. This ensures a quality installation every time!
Air Conditioning Maintenance
Regular air conditioning maintenance in Portage can help your A/C work efficiently. This saves you money, both on energy costs and because you don't have to replace that air conditioner a soften. Our air conditioning maintenance in Portage includes changing your filters, cleaning out the unit, looking over your whole HVAC system, and testing each part of the A/C against the manufacturer's specs.
No matter what air conditioning service in Portage you need, you can rely on us to get it done for you. When you call Total Comfort, you can stop worrying because now you have experts on your side. We'll work tirelessly for you until you are comfortable at home again. We test all of our work, too, so you can be sure it was done well. Our team is dedicated to providing a full range of heating & cooling services in Portage and beyond!
Click here to contact one of our service techs about air conditioning in Portage today!