Ductless HVAC & Mini-Split Systems in Merrillville, IN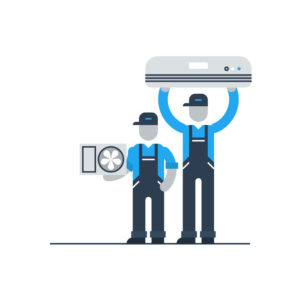 Do you have a ductless HVAC & mini-split in Merrillville, IN? It can be hard to find people who will work on these systems or who know what they're doing when they do work on them. At Total Comfort, we have experts in these systems on our staff, just for people like you. Call today and we'll get someone out to you fast so you can stay comfortable at home once again.
Repair
When your ductless mini-split system is struggling, we'll be there to help you get things back to normal. We'll come to you fast, on the same day you call if at all possible. Once we're there, we'll make sure that we understand what you're experiencing with the system. Then we'll check it out ourselves, diagnose the problem, and devise a solution that will get your system running again. We'll implement that solution ASAP so you don't suffer at home.
Replacement
Is it time for a new ductless HVAC & mini-split in Merrillville, IN? Or are you replacing a different kind of heating and cooling system with one of these? We'll help you select the perfect system for your home, then get it installed so you won't have to worry about anything. Before long, you'll have the heating and cooling that you've always wanted from one of these amazing systems.
Installation
We can install your new system, too, or put in new components to your existing system. When you want to make sure the installation job is being done right, call us at Total Comfort. We'll put everything in according to the manufacturer's specification so you can relax and enjoy your new system soon. If there are any upkeep tasks that you need to know about, we'll make sure you know how to perform them before we leave.
Maintenance
Regular maintenance can keep your ductless mini-split in Merrillville, IN working well, both right now and for years to come. We'll perform any maintenance that you need to have done, including a visual inspection of your system, cleaning out any places where dust and debris might collect, and testing each part of the system. If we find anything that isn't working as it should, we'll make sure we get it fixed soon so your system can run as efficiently as possible.
Total Comfort know the importance of keeping you in comfort year round. That's why we offer all sorts of home services, from heating to air conditioning! Call us today to make sure you and your family remain in Total Comfort all the time! Click here to make your appointment online!