Air Conditioning Repair in Merrillville, IN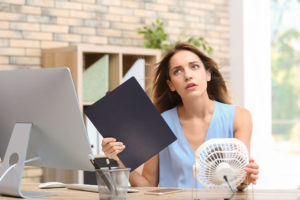 At Total Comfort, we understand just how important it is to you that you stay comfortable at home. That's why you can call us whenever you need air conditioning repair in Merrillville, IN. We'll get to you quickly, figure out what has gone wrong with your air conditioner, and get a repair in place as soon as we can. Before long, you'll be cool at home again and able to focus on living the life you love!
Do I Need A/C Repair?
Did you know that we can repair your air conditioner before it breaks down entirely? You don't have to suffer through long, hot summers where it's barely working. Call us at the first sign of a problem and we'll get there and get your A/C repair completed fast. Look for the following signs as indicators you might need air conditioner repair.
Your A/C turns off and on rapidly. This can burn out the motor and indicates that your A/C isn't getting clear signals from your thermostat. We'll determine if the A/C or the thermostat is the source of the problem, then replace whatever requires it. Call soon because this can burn out your A/C's motor fast.
Your A/C never turns off. This can also burn out the motor and can be one of several problems. We'll troubleshoot the issue until we're sure what is causing it, then get it fixed so it turns off and on like it should.
You can't get comfortable no matter what you do. Your A/C may be too small for your home or it may not be working effectively. We'll let you know and get it fixed.
Your A/C blows lukewarm air. Even if it cools, this isn't efficient. Stop spending too much on energy and call us instead.
Your A/C makes unusual sounds. This can indicate one of several problems. We'll find the issue and fix it!
Call us at Total Comfort for all of your air conditioning repair in Merrillville, IN. We offer all our home services to make sure that you have total comfort in your home at all times!. We know that being uncomfortable can make it hard to enjoy life and we don't want that for you! For technicians who have the skillset you need and who care about your well being, call us at Total Comfort today. Make your appointment and get comfortable soon!