Furnace Repair in Hobart, IN
If the furnace at your property has been malfunctioning, you need an expert to come and check it out. Total Comfort NWI is a professional HVAC company with a furnace service staff that can help with whatever is wrong with your heater. Regardless of why it has stopped working, our team is dedicated to getting your furnace repaired and your heat back on so you can be comfortable again in Hobart.
Reliable Furnace Repair Company
You want to have a company to depend on for the times that your furnace needs to be fixed. Our team is available around-the-clock to field your calls your help and come out at any time to get the warm air reinstated at your property. The technicians on our staff are all well trained and NATE-certified, so you can trust they will be working quickly and efficiently to restore heat. Especially in the cold winter months that we experience here in Hobart, it's extremely handy to have a reliable source furnace service that you can count on 24/7.
Do You Need Furnace Service in Hobart?
The following are some indications that your furnace should be looked at by a professional. If you notice any of these with your HVAC system in Hobart, give Total Comfort NWI a call.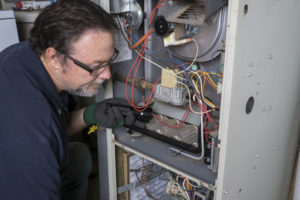 If the thermostat is on a high number, you still feel cold inside
The furnace blows lukewarm air instead of warm air
There are unusual noises coming from the furnace
You have to keep bumping up the thermostat
Any of these issues could be a sign of an issue with your furnace, and it could be something that's costing you a lot more in energy bills and putting a lot of wear on the system. Make sure to call and have a furnace repair expert examine it and let you know precisely what the problem is and what it will cost. We offer free estimates to prospective customers in Hobart.
Hobart's Source for Furnace Service
Total Comfort NWI will take care of all of your needs regarding furnace repairs and getting your HVAC back in prime working condition. We are dedicated to providing a quick response and quality service to all the Hobart homeowners who hire us. Reach out to our team to learn more and to schedule a time for a consultation and free estimate.